The Belt welcomed an all-female class of eight conductor trainees Dec. 5, 2022, as part of leadership's concerted effort to enhance diversity and close the gender gap in railroading.
As usual, the trainees spent their first weeks in a classroom setting before starting their on-the-job training and working with craft mentors in mid-January.
Designated Supervisor-Remote Control Operators (RCOs) Jim Scarsellato called the new hires "extremely attentive and enthusiastic."
"They're sharp and bring a lot to the table," he said.
The new hires praised Scarsellato and Assistant Director of Safety and Compliance Mark Labbe, who's also charged with their training, with being patient, informative and focused on their safety. They equally expressed their gratitude toward their craft mentors for being supportive and invested in their progress.
The trainees also praised each other; they've formed a bond and collaborated to learn together, in part through a text message chain.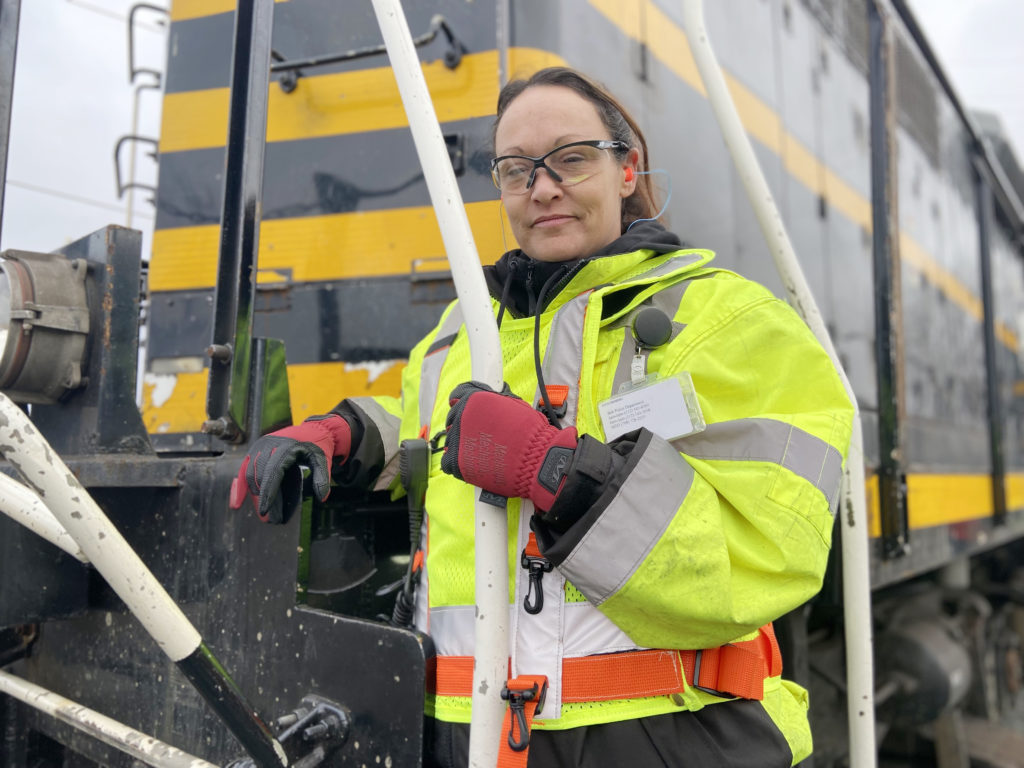 Nicole Diaz
Q: What's your background in railroading?
A: My uncle worked in snow removal for railroads, and my dad, who worked in construction, asked him to help us establish railroad careers. My two brothers and I previously worked as CSX administrators. I've also been a switchman for the Chicago Transit Authority (CTA). While that operation wasn't remote, I feel comfortable with switching and moving trains.
Q: Why BRC?
A: I've wanted to work here for forever. I live in the area and used to look into the yard and want to move trains.
Q: What's it like to train with your daughter, Alyssa Mendez?
A: I love it. We're learning together. Her ability to do what I do is awesome. I've tried to instill a great work ethic in her.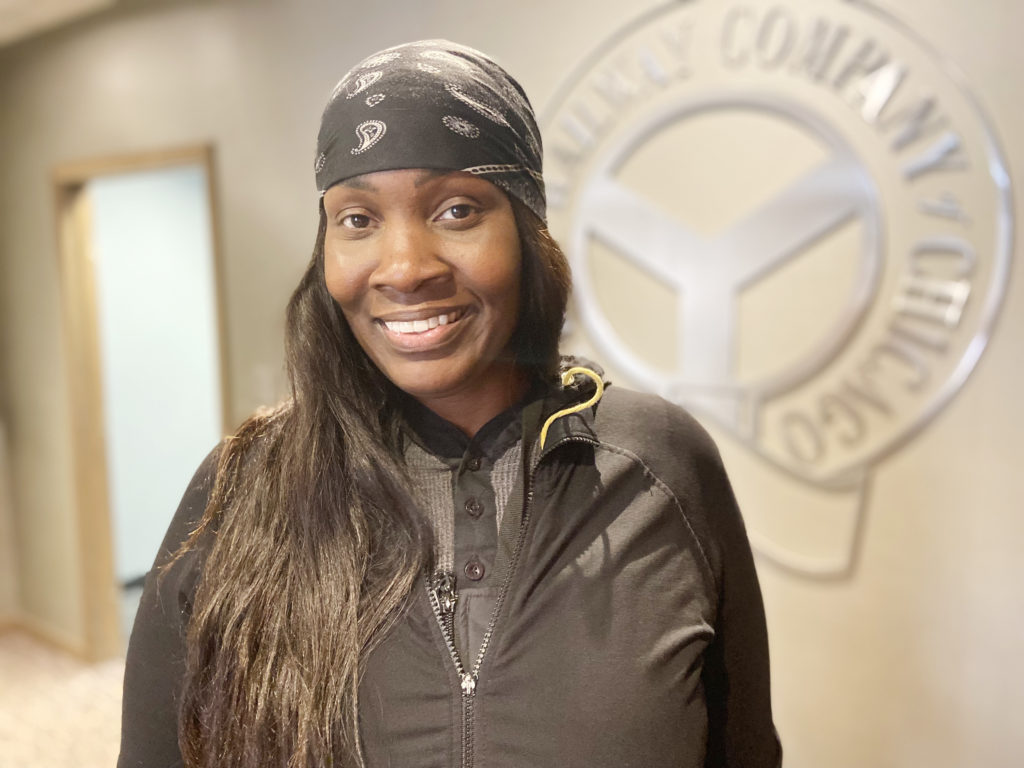 Uniqa McGee
Q: Why is diversity important to a railroad?
A: The world is diverse and women can do anything men can. I do believe it takes a special person to work for the railroad. You definitely have to emphasize safety and deal with the elements. You can't be intimidated. I'm excited that my fellow trainees and I will show that women can be just as safe and productive as men. We're ready for the challenge and to achieve our goals.
Q: What's your work background?
A: I'm accustomed to being in male-dominated fields as I᾿ve been in carpentry for more than 20 years. I'm attracted to challenges. I'm the only girl in my family and was included in everything we did. Gender stereotypes didn't apply. I worked on our cars and in our family real estate business building homes. I᾿m thankful for my parents.
Q: What do you do in your time off?
A: I played volleyball in high school and still do. I'm a seamstress, model and furniture maker. I'm presently working on an entry table that I think represents the railroad well. It looks like it belongs here. Carpentry is a creative outlet, and the things you make can make people happy.
Alyssa Mendez
Q: What was it like to grow up near the Belt?
A: I lived a block away and could hear the sounds of the retarders. I was excited when I found out they were hiring.
Q: What's it like to train with your mother, Nicole Diaz?
A: She brought me into the intermodal industry, and I recently was employed as a chassis inspector. Even before I began working, I was around the railroad because that's where she worked. I love the industry, and I wouldn᾿t want to do anything else. I have a passion for this. I enjoyed demonstrating my expertise in former roles, and I'd like to finish out my career at the Belt.
Sygorni Oatman
Q: How did your father influence you?
A: My father is a model train enthusiast, and I grew up watching videos of trains. I'd call him a train nerd. He's excited that I'm in the industry, but every day, he he tells me to be careful. My dad is one of my best friends. I'm a long-distance cyclist, like my dad. After seeing model trains and videos, it's cool to learn about them and see them work in real life.
Q: What's your work background?
A: Along with being an educator, I've worked as a health and safety coordinator. I enjoy learning about a new industry; it's interesting and challenging.
Q: What do you do in your free time?
A: Art, including leatherwork and sculpting. I also knit and crochet.
Shavon Smith 
Q: Why were you excited to join the Belt?
A: It's exciting to learn about trains from this point of view. My previous experience was playing with trains under the Christmas tree. It's a big responsibility now, but it's also fun. I take every job I do seriously. When you're moving huge equipment through the yard, safety takes precedence. What we do is important. We get so many products to millions of people.
Q: What do you think about the training?
A: Everyone has been welcoming, which you don't get everywhere. People go out of their way to explain things. The trainers realize that everyone learns differently, and they've been able to accommodate my learning style. I appreciate that.
Q: What do you like about BRC's work environment?
A: As an independent contractor for a pharmaceutical delivery company, I got to meet and interact with lots of people, which I enjoyed. I'm enjoying working with a lot of different people here too.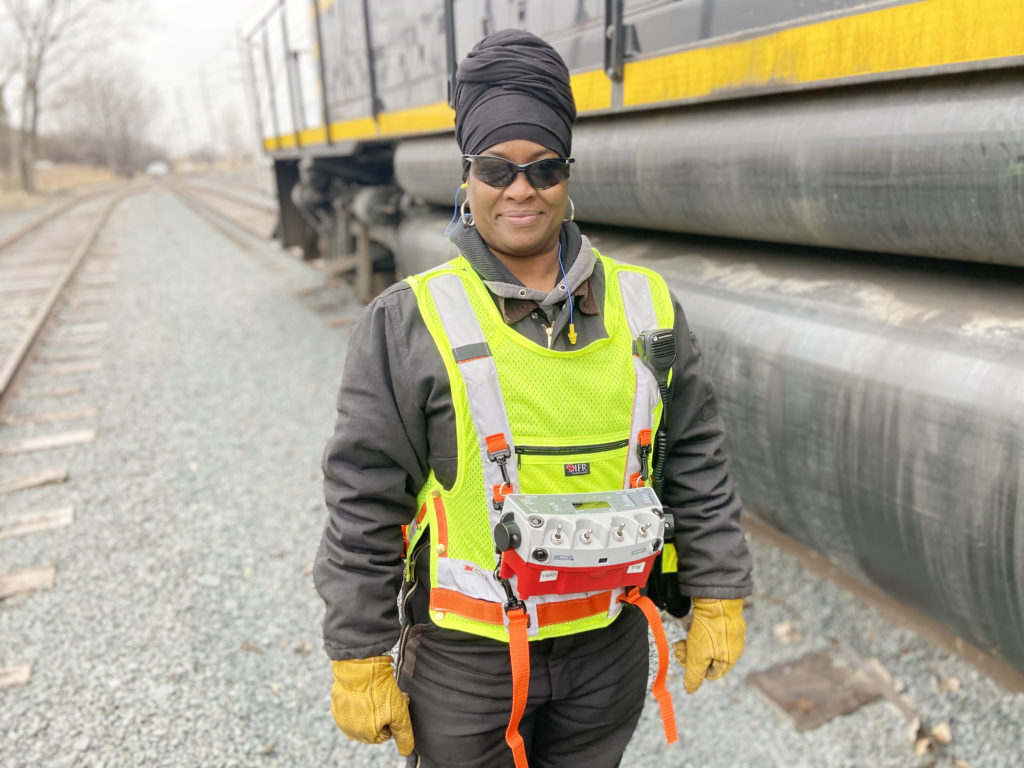 Nkem Echo Uwagboi
Q: How'd you learn about the Belt?
A: I developed a friendship Uniqa McGee, a fellow conductor trainee, through our shared love of carpentry. When she hired on, she knew that I worked in construction for 20 years and that I enjoyed its challenges and expectations, as well as the camaraderie. I enjoy work that's physically and mentally challenging.
Q: What was it like being the only girl in your family?
A: I hated being called a tomboy. I could do all the things guys could do —just a little better. I attended St. Elizabeth Catholic School as a 14-year-old and was the first girl to play on the boys basketball team. I played point guard and power forward. I was a cheerleader at first. While feminine, I wasn't fragile, and I wanted another layer of fun, so I joined the team. There initially was pushback from the boys, but I eventually won them over. I would've persevered with or without their approval, though.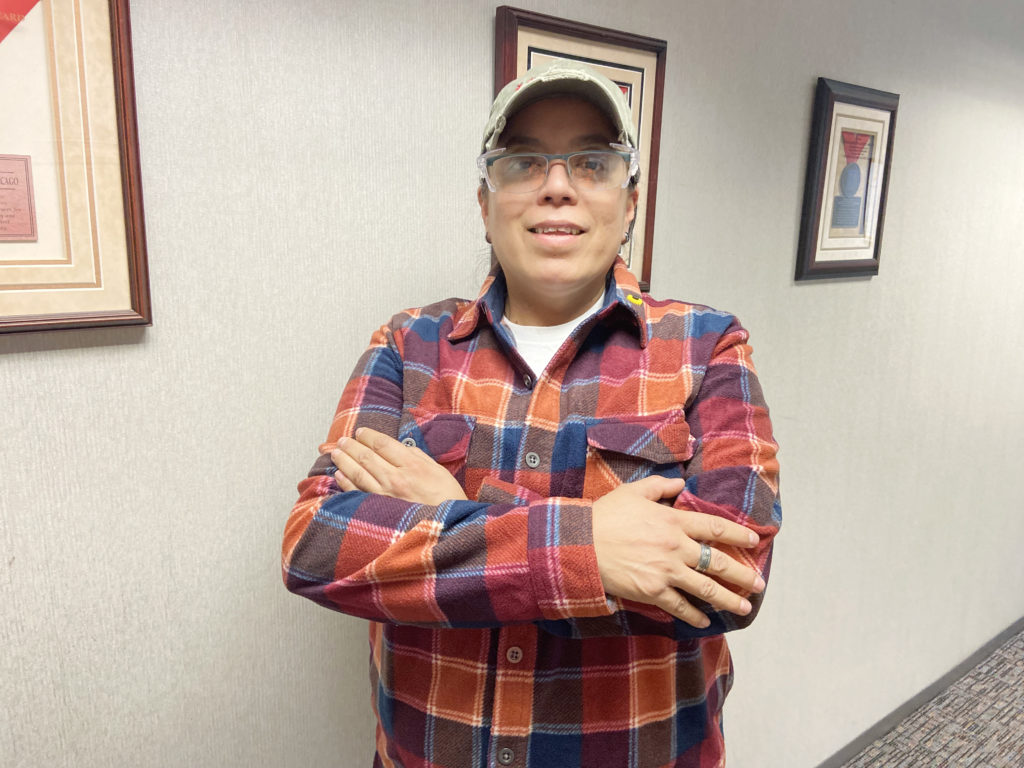 Edna Verdi
Q: What attracted you to the Belt?
A: I find railroading interesting and enjoy learning about the whole operation. Everything has been a new experience. Managing a train without being on it and the mechanical aspects are impressive. Everyone has been nice, helpful and enthusiastic that we're here. They've emphasized safety at all times. It's No. 1. I'm looking forward to completing my training and operating the locomotives like a professional. I'm also excited by the opportunity for advancement. I worked 18 years for a uniform services company, starting as an hourly employee and becoming a plant manager. Skills I developed there include making observations, learning and implementing enhancements.
Q: What do you do in your time off?
A: I volunteer at my church and help seniors.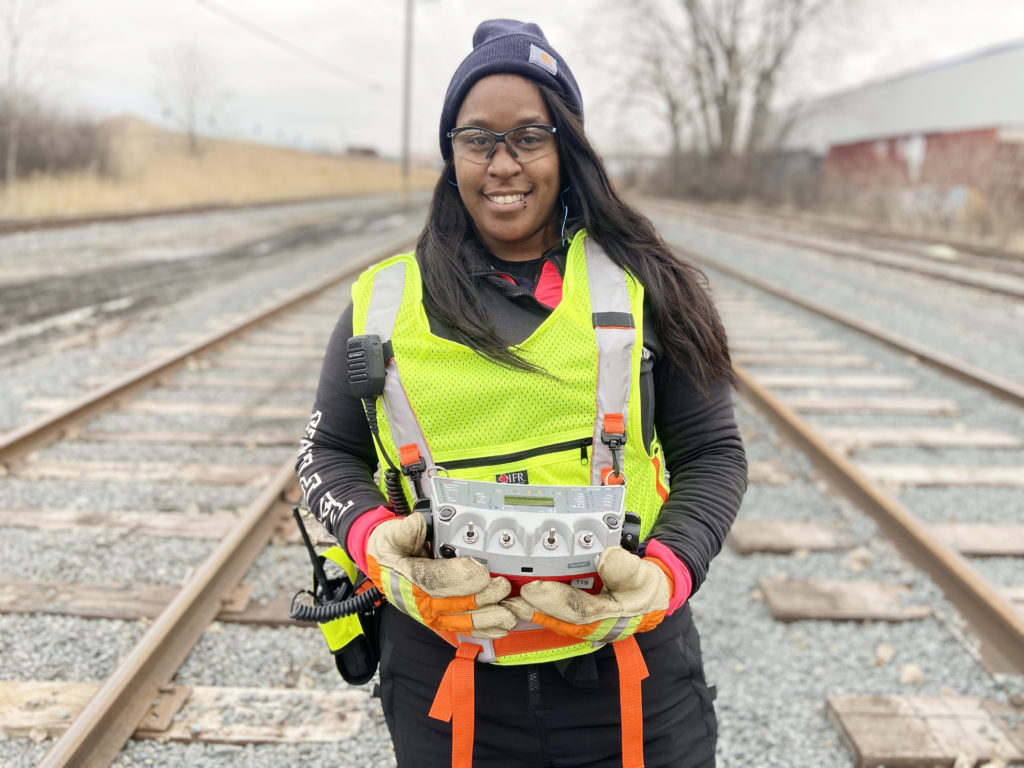 Amber Whitfield
Q: What's your work background?
A: I've found that there are greater career opportunities if you're willing to face the elements, which is why so many of my previous jobs have been outdoors. Most recently, I worked for a company locating gas lines. I've also worked outside at the airport and as a mail carrier. I always layer up and use proper PPE, including boots. I don't let the weather distract me. My safety and that of those around me depends on my focus. I have two daughters, 4 and 10. They want to come to work with me, but for now, trips on Metra will have to suffice.
Q: What was your first impression of BRC?
A: I like a company where I feel like I'm at home and that has management on our side, guiding employees and desiring to see them succeed. People here want you to go home safe. It's not just about productivity.