The Car Department welcomed three new employees in October.
Car Foreman Jason Prosser said they've shown promise and are highly engaged. They'll train for 60 days, dividing the time equally between the RIP track and the yard.
New hires wear blue hard hats to make them easily identified, so seasoned employees are aware to help them work safely.
The department also added two new foremen, Israel Soto and Lee Winfrey.
"They've put a lot of time in and shown a lot of drive," Prosser said.
Andujar glad to start new career
After years in law enforcement, Carman Apprentice Augustin Andujar said he was ready for a change.
"I wanted a job that produced something at the end of the day," he said. "Working for the Belt, you play a part in keeping the economy running. Most of the major railroads run through here."
Andujar added that he looks forward to inspecting trains and ensuring safety for himself, his co-workers and the public.
"I want to do work that has a positive effect on more than just me," he said.
Andujar applied at other railroads, but he found the process to be impersonal and preferred the way the Belt conducts hiring.
"It has a small-business feel," he said, noting how he liked the face-to-face interaction during the process. "I feel that I was hired based on the qualities that I presented in person."
The training process reinforces his positive feelings about the Belt.
"This is the first job I've had where people show that they really want to train you," Andujar said.
An important early lesson he's learned is that PPE is vital to safety.
"You wear all the PPE all of the time," Andujar said.
Away from work, Andujar enjoys riding his motorcycles, especially his Kawasaki KLR. His other interests include target shooting and tattoos.
Malachinski respects industry, safety 
Carman Apprentice Justin Malachinski's tool-related knowledge, which began in shop class and carried over to a job with a major hardware retailer, will now aid him as a railroader with the Belt.
"It's what I've always wanted to be," Malachinski said, noting he looks forward to working on various types of rolling stock. "Nothing's more powerful than a train."
Malachinski also appreciates the industry's role in the economy and its importance in people's lives.
"I look forward to getting in the yard and doing inspections," he said. "My job matters, and it's a job that has to get done."
While the significance of railroad work is apparent to Malachinski, so is the need to do it safely.
"We're dealing with cars that weigh several tons," he said. "We have to look out for one another, and my co-workers are coaching me up."
While starting a new career is demanding, Malachinski said he considers himself fortunate as he enjoyed playing with a model railroad set as a child and now works with the real thing.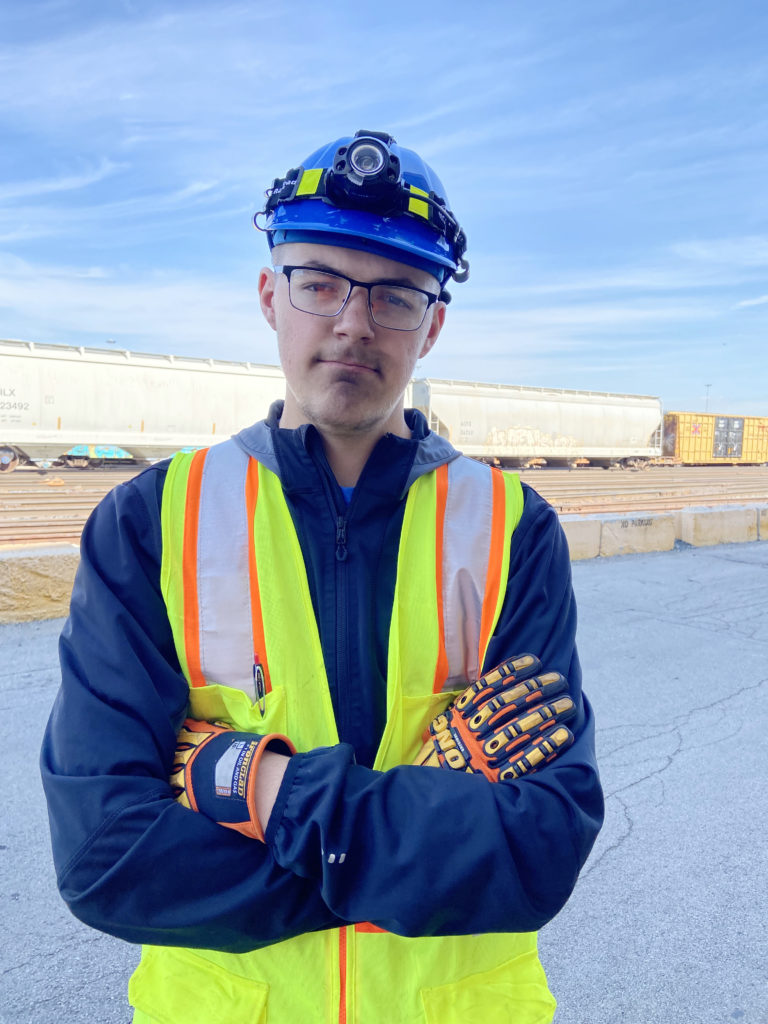 Marrella pleased to contribute to vital mission
While the service industry had its upside, Eric Marrella said he was looking for more; he wanted to be part of a team. Marrella believes he's found that camaraderie as a carman apprentice at the Belt.
"With the number of people we have, it's a family environment," Marrella said. "Here, I'm not just another employee, it's a more personal experience."
Marrella appreciates the opportunity to build relationships and says it's apparent that co-workers look out for one another at the Belt.
Marrella also likes the hands-on work. While he's just begun his railroad career, Marrella is confident he made the right move.
"It's where I'd love to stay," he said.
The pandemic brought the phrase "essential worker" into the national lexicon, and Marrella believes that it applies to railroad employees.
"It's an opportunity to be a part of something bigger than yourself," he said.
Marrella added that working with trains allows him to explore his childhood interest with them.