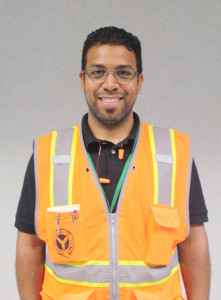 When Joseph Gallegos joined BRC four years ago, he had no idea of the adventure that awaited.
He worked three years as a switchman before becoming a dispatcher a year ago. He was promoted to trainmaster June 1. His driving passion is expanding his knowledge.
Gallegos continues to be fascinated by how the industry runs and operates.
"I want to know more," he said. "If I don't know something, I seek out the why,
how and what about it."
Gallegos enjoyed a smooth transition from train dispatcher to trainmaster. During the past year, he worked hand in hand with the manager of train operations, so he already had an insight into his job duties. He appreciates the patience of those who have helped him during this transition.
Fellow trainmasters appreciate his addition to their team.
"He has a great attitude," said Trainmaster John Christensen. "He has the maturity, but is young and enthusiastic. I look forward to a long career with him. I see great things for him."
Gallegos hopes the crews know he wants to help in any way he can.
"I'm here to help, teach and learn all at the same time," he said.
When not working, Gallegos enjoys time with his wife, Mary, and children, Giada, 7; Gavin, 5; and Nadia, 2. He likes snowboarding in Colorado and Utah.