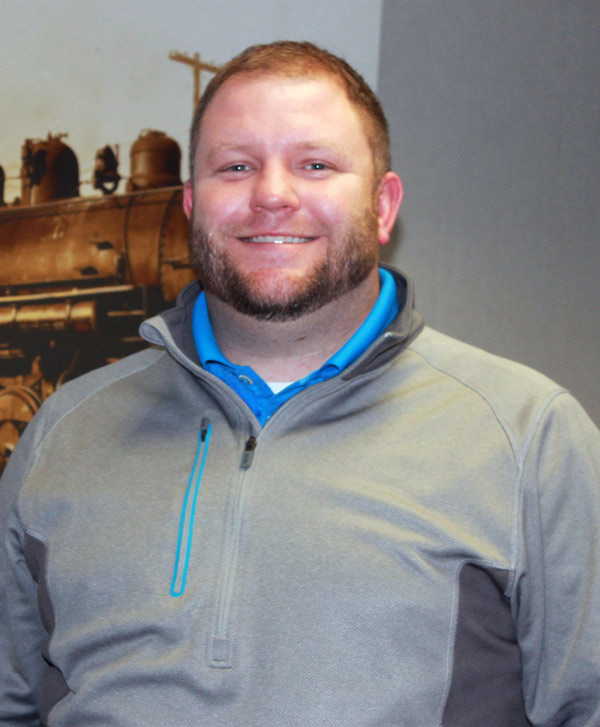 Railway Age recently honored Terminal Superintendent Terry Hartwig.
He received an "Honorable Mention" in the magazine's annual "Fast Trackers under 40" for 2021.
Established in 2016, the annual awards are presented to railroaders under the age of 40 in North America for making an impact in their respective fields or within their company.
President Michael Grace cites Hartwig's solid leadership and teamwork, both at work and with Little League coaching, as making him a top contender for this recognition.
According to Nick Little, Director of Railway Education at Michigan State University, who was one of the judges, there were 101 nominations and 20 honoree spots. He called the assessment "illuminating" and noted that this year's competition might be the best in the six years it has been conducted.
By being named an honorable mention, Little said, Hartwig distinguishes himself as within the top 30% of those employed in the industry.
Reflections on an honor
What does this honor mean to you?
It definitely feels good; but most importantly, it's nice to see the BRC initials in any industrywide publication.
What does it say about you?
Honestly, I look at this as a group recognition and not an individual honor. People don't realize this, but there are so many different aspects that go into this operation. Each one of us has a job to do and must perform at a high level in order for us to be successful. Whether a crew pulling a cut of cars or someone in the office fixing a printer, we're all assets to this company and need to work together to achieve success.
What accomplishments are you most proud of?
I'm most proud of what we've accomplished as a team this past year. We set records in several categories within our operation; it was done with teamwork and collaboration. Each department worked closely together. We grind it out each day working on ways to ensure we are all successful, not just Transportation. Success means we remain fluid and relevant, as the rail network relies on us; but most importantly, success means all of our employees work safely and go home to their families each day.
What can you tell us about the support you receive?
I thank the more than 450 BRC employees who come to work each day to make a difference. Without our workforce, we are nothing. Each department here operates at a high level and drives any sort of success we have.
Also, thanks to President Michael Grace; he introduced a different style of leadership when he came on board and has taught me so many things about people, including how important it is to focus on the employees in the field rather than the day-to-day tactical side of the operation. His style of leadership is exceptional.
Last year, he brought on a new general manager, Percy Fields, who arrived with his own set of skills and ideas, which was a perfect blend. He has come in with a fresh set of eyes and already has made a big impact on our operation in a positive way. Having this type of experience to lean on is exactly what we needed.
I'd like to give a shout out to my wife, Melissa Hartwig, who has the most difficult job on the planet along with all railroad spouses and families out there. Many sacrifices have to be made when working in this industry, making your support system extremely important. Thank you!