The Belt added six new switchman trainees Dec. 7, 2022.
The group is progressing through the training program with the help of Designated Supervisor-Remote Control Operators (RCOs) Jim Scarsellato and Assistant Director of Safety Mark Labbe.
---
Dryier sees new future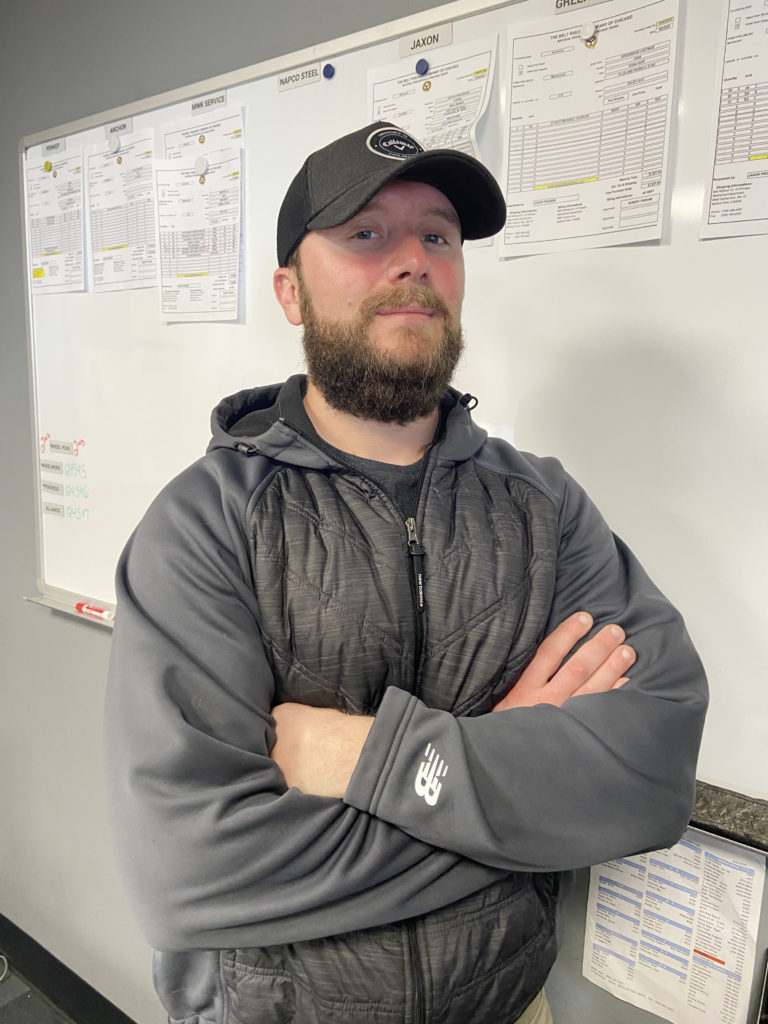 Switchman Jeremy Dryier arrives at the Belt preparing for a future that doesn't just belong to him.
In fact, he credits his girlfriend of three years, Krystay, for encouraging him to move on from his previous employment at a beverage distribution warehouse.
"It was a great job, but it was time for a change," Dryier said. 
While he still has childhood memories watching trains pass by in Alsip, Illinois,  Dryier now lives in Chicago's Mount Greenwood neighborhood near both his and Krystay's families.
"I'm proud of where I come from," he said. "I grew up with family being the main thing in life. Everyone was so close, and family dinners were treasured. Family is still the most important thing to me."
Dryier noted his new co-workers are quickly becoming an extended family.
"Everyone has been great," he said. "There's a lot to take in, and the people here have really gone out of their way to help me."
Dryier also considers his German shepherd, Kash, to be like kin. He called the 1-year-old both a "troublemaker" and a "good boy" who has excellent recall and is receptive to training.
---
Belt facilitates career change for Garza 
Prior to joining the Belt, Switchmen Miguel Garza and Cory McHugh served the community as part of the Cook County (Illinois) Sheriff's Office.
McHugh left the sheriff's office first and encouraged Garza to join, citing the Belt's excellent work environment,
"I always wanted to be in law enforcement, but it was time to change careers," said Garza, who noted the company's strong benefits, good retirement plan and the ability to work outside drew him to the Belt too.
The Chicago native praised journeymen switchmen with "being there" for new hires and "willing to help out."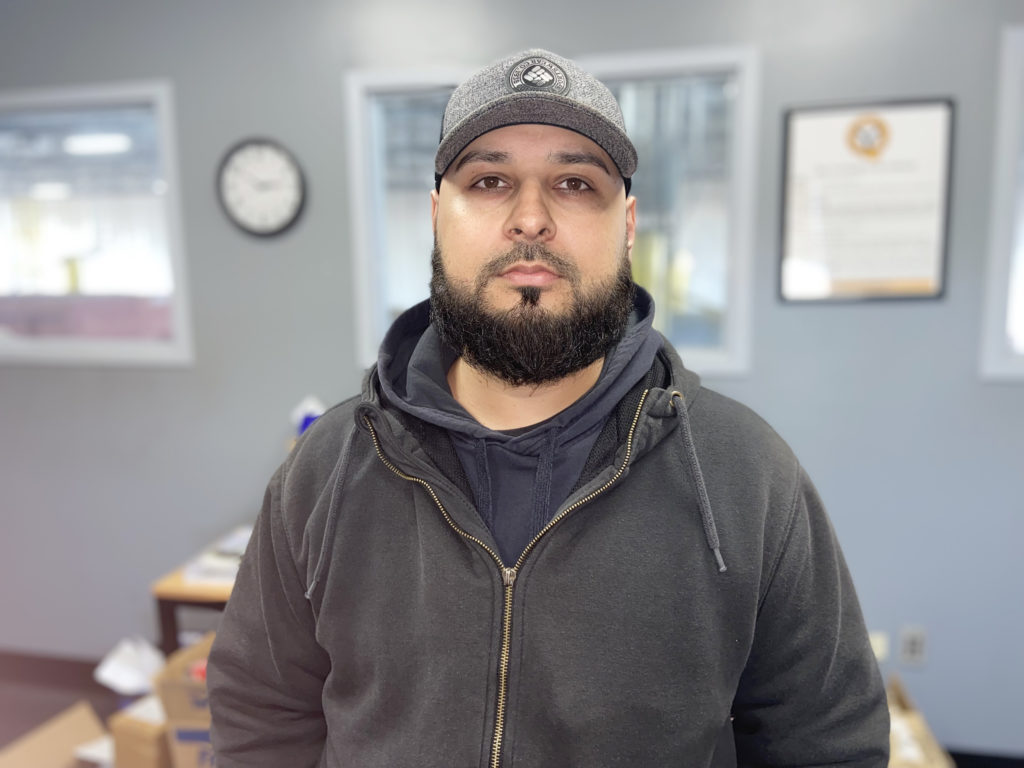 Garza is passionate about sports and enjoys playing and watching basketball. He also loves to cook with two of his specialties being ribs and arrachera, also known as skirt steak.
"I barbecue all year-round," he said.
---
Family time a key for Jones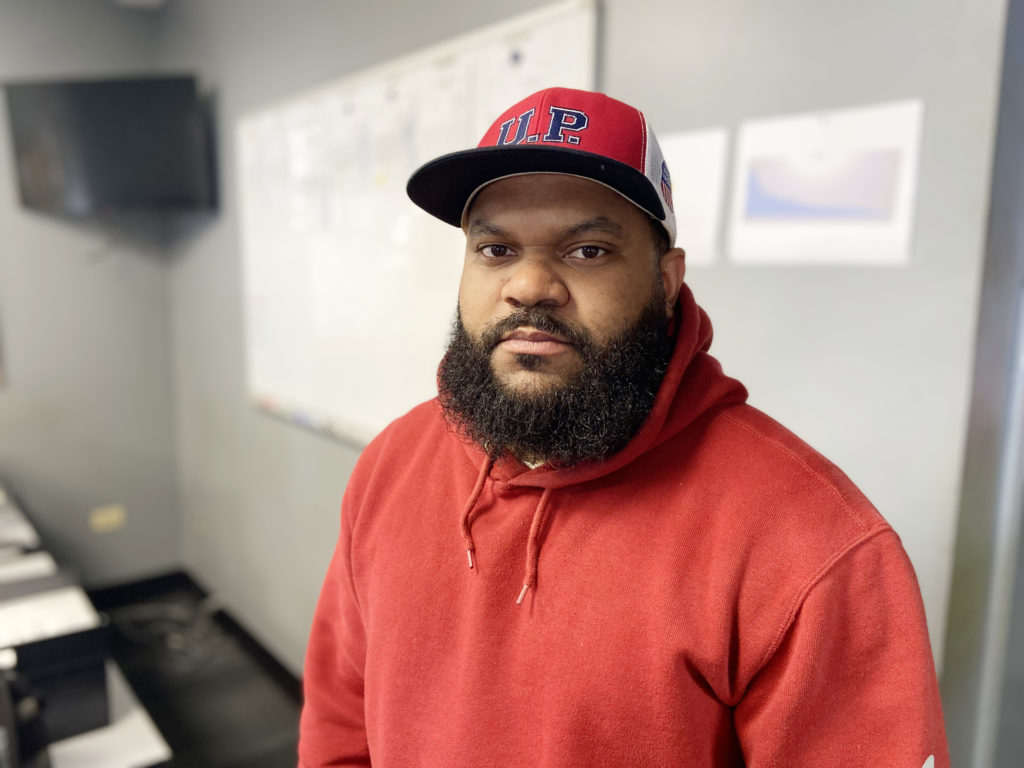 After working for another freight railroad, Switchman Jawaun Jones arrived at the Belt with a desire to stay within the transportation industry while enjoying more time with family.
Jones and his wife, Kailah, have three children, Jawuan, 6; Kai, 1; and Malakai, 5 months.
His family also shapes his attitude toward safety.
"You have to treat every day like it's your first; you can't get complacent, especially in a classification yard," he said.
Jones appreciates the tight-knit nature of the Belt.
"Everyone helps each other out," he said, noting a great sense of cooperation. "You see people looking out for each other and going above and beyond."
Having previously worked inside a locomotive cab, Jones noted remote control operations required a "huge learning adjustment," but said it's quickly become "second nature" to him.
"I like railroading," he said. "It᾿s a physical job and keeps me young."
---
McKissack brings safety prowess to Belt
Switchman Eddie McKissack joined the Belt for a change of pace, but he didn't leave his skills as a warehouse safety lead behind.
"I left like a teacher in that role," McKissack said. "I took pride in making sure that everyone worked safely with each other."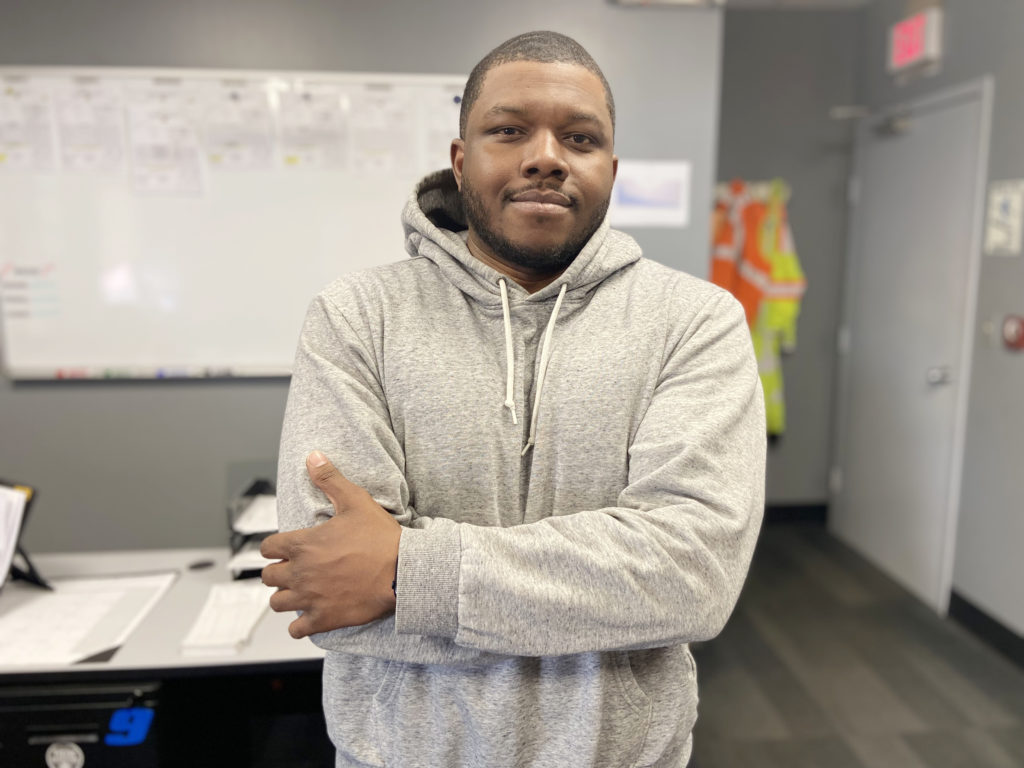 As he constantly strives to progress within an organization, McKissack is one of six new hires currently focused on training.
"It was challenging in the beginning, but now we've developed muscle memory," he said.
McKissack noted his first impressions revolved around the Belt's safety-minded pace, compared to other jobs he's had.
McKissack praised Assistant Director of Safety Mark Labbe and Designated Supervisor-Remote Control Operators (RCOs) Jim Scarsellato for sharing their knowledge through discussions of real-world scenarios.
---
Walker brings an experience-filled grip
Switchman Lewis Walker is familiar with the Windy City's transportation industry, having previously worked eight years as a commuter service conductor and remote control operator (RCO) in a bustling yard. Over time, Walker developed a preference for the latter.
"You get to see your work come to fruition," he said.
While much of the Belt's new hire training serves as a refresher, Walker said he's learning to use air brakes since they weren't an operational element elsewhere. Railroading, however, has been part of Walker's life before he ever picked up a control unit.
"I come from a railroad family," he said, noting his father, sister and cousins all belong to the profession. "I can't see doing anything else."
Prior to joining the industry himself, Walker served four years with the U.S. Navy and worked in retail.
"The Navy was a positive experience and gave me direction," he said.
In regard to pastimes, basketball season never ends for Walker as he's an avid player of the video game NBA 2K. He said it's a way to hang out with friends in a virtual setting. He also enjoys modifying and driving his Jeep.
"It's part of your identity when you put your spin on things," he said. "It's a way of speaking without saying anything."
---
Wordlaw continues to seize opportunity 
From a young age, Switchman Tauron Wordlaw developed his strong work ethic and commitment to teamwork and discipline as a Rich Central High School football player in Olympia Fields, Illinois. This carried over a month after graduation as he shipped out with the U.S. Army on June 11, 2019, a decision he made after weighing his collegiate sports and career options with his father, a railroader.
"Football taught me about being part of a cohesive unit and never quitting, even when times are tough," Wordlaw said. "Those traits are appreciated and strengthened in the Army."
Wordlaw, who described his military experience as "exciting," made his first stop at Fort Eustis in Newport News, Virginia, before going on to Albania, a European country near Italy's "boot," and Texas.
"I was ready for a new journey, and I wanted to be independent, see the world and challenge myself," he said.
While stationed in Albania, Wordlaw said he had the opportunity to see new landscapes and experience a different culture, noting he found the Albanian people to be kind and enjoyed sampling their cuisine.
After being discharged in October 2022, Wordlaw said it was time for his next adventure. Once again, he consulted with his father who let him know the Belt was hiring.
"It's a career that teaches you a lot," Wordlaw said. "I'm meeting a bunch of new people."
Away from work, Wordlaw enjoys spending time with his girlfriend and watching a movie or YouTube videos. Along with working up a sweat at the gym, Wordlaw's currently committed to cutting back on video games and reading more.