After a year off due to the pandemic, the blood drive was back July 21.
Multiple employees cited a shortage in blood as one of the key factors inspiring them to give.
Director of Police and Risk Management Jerry Conoboy arranged the drive with the support of General Manager Percy Fields and President Mike Grace.
More than 30 employees were slated to donate. According to Vitalant's representatives who brought a blood donation bus to the Business Office parking lot, each donation consisted of a pint of blood and had the potential to save up to three lives. For example, platelets, plasma and red blood cells respectively can be used to treat leukemia patients, burn victims and premature babies, among numerous other uses.
Patrolman Al Gentile has given blood twice a year since he was a teenager and has received a pin noting that he's donated a gallon of blood. He came in on his day off to donate.
Members of the Safety Committee and Police set up tent near the blood donation bus to promote safety and engage the Belt community. Belt swag was handed out as well as refreshments.
Switchman Mike Holic said it was part of the committee's commitment to keeping employees safe and managing their concerns.
"We want to make a safer tomorrow," Switchman Matt Davidson
said.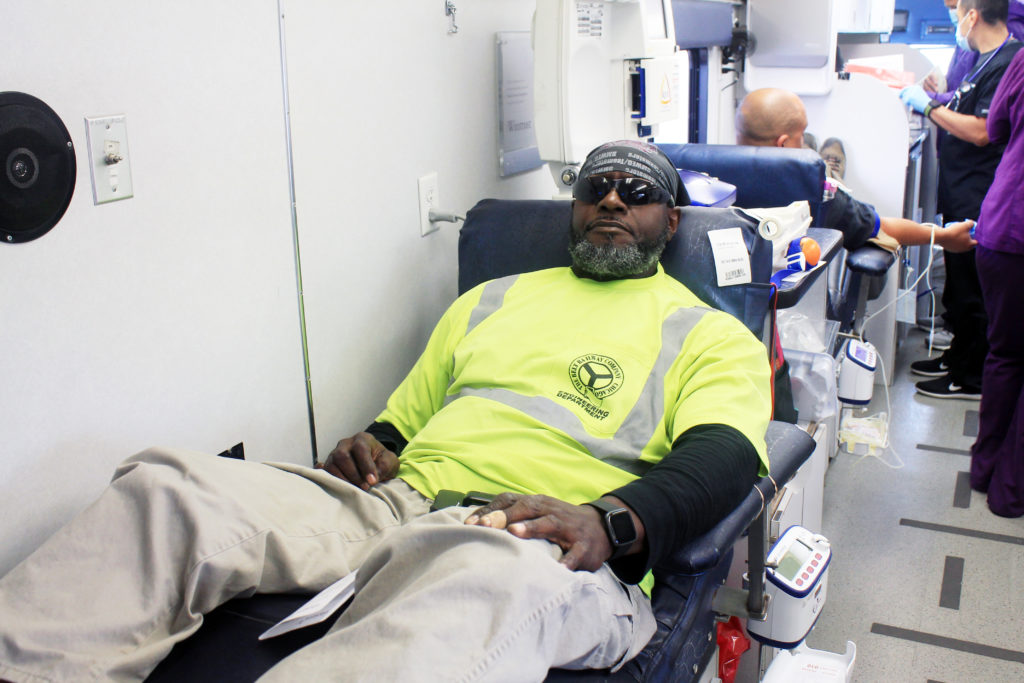 "I just wanted to do the right thing."
— Carpenter Michael Lewis
"We want to do our part to help those in need. We want to be a good steward for our many neighbors in Chicago and the surrounding community, and
make as positive of an impact as possible."
— General Manager
Percy Fields
"It's great to be a part of a railroad that's concerned with the community beyond the scope of work."
— Chief Financial Officer Brian Dilger