About 340 current and retired employees, Bedford Park Police, Chicago Police, customers and vendors gathered Sept. 6 to celebrate the BRC annual Safety Barbecue.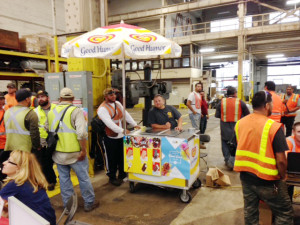 The event represents a thank you to safety-conscious employees. It included food prepared by vendors and information about various topics.
"It was a fun event for everyone," said Director of Police and Risk Management Mike Romano. "There were a lot of vendors, and it was a great opportunity to talk to people."
Employees from each shift participated in the 6 a.m.-3 p.m. event. Chuck's Southern Comforts Cafe served pulled pork, Cajun chicken, sausage, green beans and mashed potatoes.
Health and eye screenings, flu shots, boots and free prizes also were available through vendors.